Block Party by Brodas Bros. James Brown tribute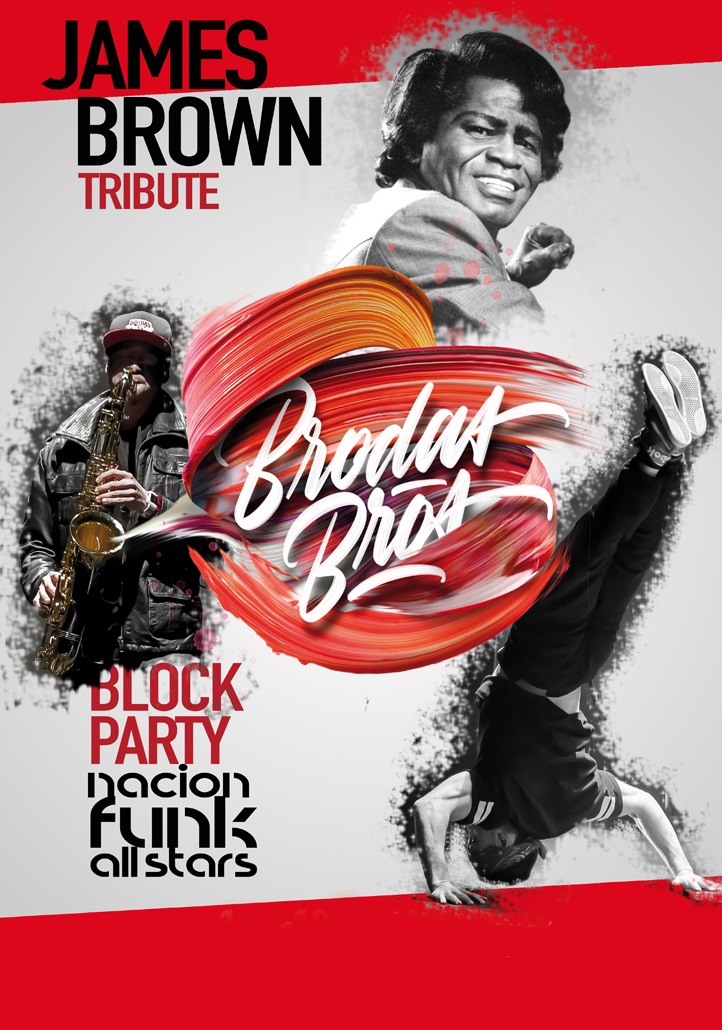 Espectacle disponible en català, castellà i anglès
Ballarins Berta Pons, Clara Pons, Pol Fruitós, Lluc Fruitós, Marc Carrizo
Banda en directe Nación Funk All-stars feat Michel Clavero

Lalo López, guitarra i veus
Guilliam Sons, flauta, saxo tenor i veus
Roger Martínez, saxo alto
Marc Benaiges, bateria
Adri González, teclats

Direcció artística Lluc Fruitós
Producció executiva Sara Manzano i Marta Guzmán
Producció Brodas Bros

Management Marta Guzmán
Block Party by Brodas Bros. James Brown tribute
Un concert homenatge a la música negra, una festa animada per la dansa espectacular de BRODAS BROS i conduïda per la banda NACION FUNK ALL STARS capitanejada per LALO LOPEZ (Fundación Toni Manero).
6 ballarins, 6 músics i 2 cantants portaran al teatre l'energia del Hip Hop que va néixer gràcies a les festes Block Party que van començar a organitzar DJ's de Nova York com Cool Herc, Africa Bambata o Grandmaster Flaix.
Després de fer "Pere i el llop" amb música clàssica, "Vibra" amb percussió, "Br2" amb electrònica... els Brodas Bros tornen als orígens del funk dels 80: James Brown, Aretha Franklin, Kool & The Gang i molts més. Amb hits com el "Sex Machine", o el "Think", us faran saltar de la cadira i ballar!
Un espectacle altament participatiu, un concert on els espectadors són lliures d'aixecar-se, ballar i cantar quan els hi vingui de gust.
Peace, Love, Unity and Having Fun!!!